Description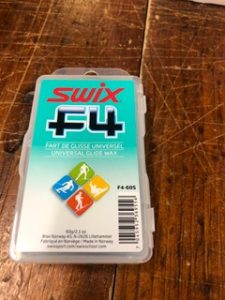 Update 11/17/19 – this is a F4 hard wax with a built in cork on the underside of the box. We currently cannot get the paste wax we normally sell. This works by rubbing on the skin and base (tip to tail) and then coring it in (also tip to tail).
The Swix F4 wax has been a staple in our ski packs for years, waxing fishscale bases, smooth base skis that are sticking, and climbing skins with snow buildup. I also use F4 at times on the top of the skis and in the bindings to reduce snow sticking and buildup.
Snow gets very sticky/clumpy when it goes from cold to warm, right around freezing. This is good snowman snow…. but it is sticky on ski bases and skin material.  This can happen with new snow that is warming due to the temperature rising to at or above freezing and it is also found (especially) in the spring when cold new snow gets warmed by  spring sun or one skis from a north facing aspect (cold) to an south facing aspect (warm). Basically you have sharp and pointy cold snow crystals that – when they first warm – are very sticky until the round out a bit. After a day or two of warming they will no longer be a problem.
The F4 works well in the field as it can be put on both base and skin material, allowed to dry for a few minutes and you are good to go. It is a thicker paste then the more liquid versions in the bottles so takes less per application.
This wax needs very little to be effective, just enough to darken the ptex or skin. When applying to the skin part of the base (that would be the "fur")apply it with the nap or diagonally. Do not rub or apply the wax against the direction of the fur (tail to tip). We find the standard F4 paste to be more effective and longer lasting then the specific skin wax that Swix now makes so we recommend this over the Skin specific F4.